Medicare, Medicare Supplements,  Medicare Advantage Plans, and Part D Prescription Drug Plans:
Medicare is a federal health insurance program for people 65 years of age or older, and certain people with disabilities or End-Stage Renal Disease (permanent kidney failure). It pays for much of your health care, but not all of it. There are some costs that you will have to pay yourself. These costs are called your out-of-pocket costs.
Medicare and all of the choices available to a senior can be confusing.  Some plans have a premium per month and others do not.  Likewise, it's important you work with someone who knows medicare and specializes in the senior market and someone who can explain the differences to you.   I have almost 20 years experience doing this.  I'm available to work with you to keep it as simple as possible for you
A Medigap policy is a health insurance policy sold by private insurance companies to fill the "gaps" in the Original Medicare Plan coverage. "Medigap Policies" are also called "Medicare Supplement Insurance"
Medicare has two parts:
Part A (Hospital Insurance) helps pay for:

Inpatient Hospital Care

Some Skilled nursing facility care

Hospice care

Some home health care
Part B (Medical Insurance) helps pay for:

Doctor's services

Outpatient medical and surgical services and supplies

Durable medical equipment

Some other medical services that Part A doesn't cover
Depending on where you live you may be able to get your health care in one of 3 ways:
1. The Original Medicare Plan
2. A Medicare Advantage Plan (HMO, PPO, Regional PPO, PFFS, SNP, MSA, Part D)
3. A Medicare Supplement Plan
Medicare Supplement Plans:
There are 10 standardized Medicare Supplement plans called "A" through "N". Each planA through N has a different set of standardized benefits. Plan A offers the least amount of benefits and Plan F offers the most benefits. The Medicare Modernization Act of June 1, 2010 eliminated some plans and added others. This was done to better align the plans  with the new Part D coverage and eliminate plans that used to have drug coverage and did not make sense any more without the coverage. The following chart lists the benefits in the 10 standardized Medicare Supplement Plans:
Basic Benefits (Included in all 10 plans)**

Inpatient Hospital Care:
Covers the Part A coinsurance and the cost of 365 extra days of hospital care during your lifetime after Medicare insurance coverage ends.

Medical Costs:
Covers the Part B coinsurance (generally 20%of the Medicare-approved payment amount)

Blood:
Covers the first 3 pints of blood each year.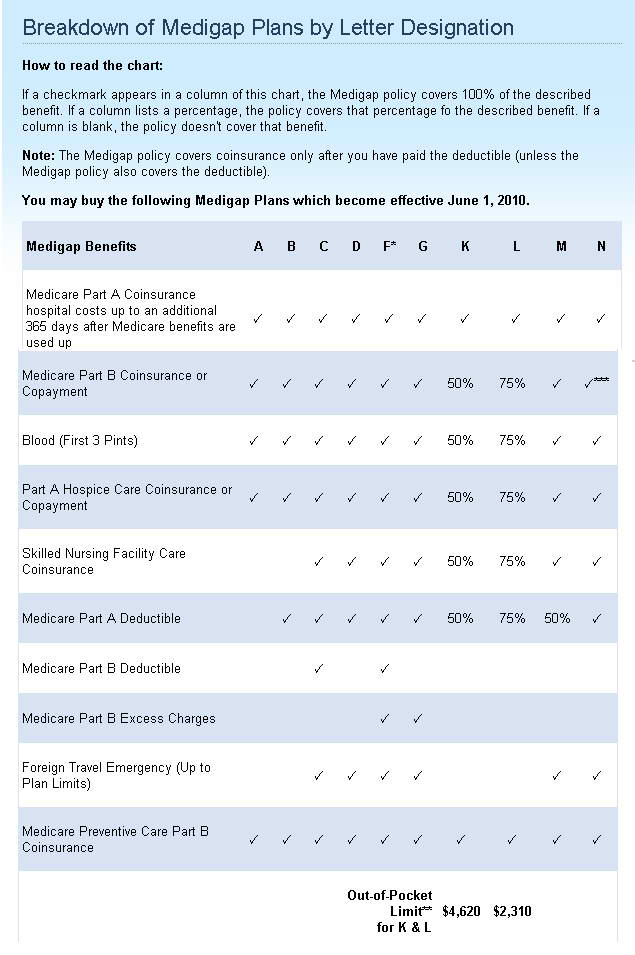 * Plan F also offers a high-deductible plan. This means you must pay for Medicare-covered costs up to the deductible amount $2,000 in 2010 befor your Medigap plan pays anything.
** After you meet you out-of-pocket yearly limit and your yearly part B deductible ($155 in 2010), the Medigap plan pays 100% of covered services for the rest of the calendar year. Out-of-pocket limit is the maximum ammount you would pay for coinsurance and copayments.
*** Plan N pays 100% of the Part B coinsurance except up to $20 copayment for office visits and up to $50 for emergency department visits.
Medicare Advantage Plans. (Part C)
Another alternative for people with Medicare Parts A & B is to assign their benefits to a Medicare Advantage Plan. With an HMO you will have to choose a Primary Care Physician (PCP) from the carrier's list of doctors and he will have to refer you to specialists similar to an individual/family plan (IFP) HMO. Medicare Advantage plans also include PPO's, Regional PPO's, PFFS, SNP's, MSA's, and Part D Prescription Drug Plans. The advantage to a Medicare Advantage Plan is that it usually costs less than a supplement and has additional coverages built in like dental, vision,  prescription drugs, and hearing aids. These additional coverages are not included with Medicare or the Supplements.  Please contact us to discuss these various plans and which type would suit your needs the best.
Part D Prescription Drug Plans.
This is another type of Medicare Advantage Plan and can accompany a supplement and some types of Medicare Advantage plans that do not have prescription drug coverage (MSA or PFFS without Part D).
For additional information about Medicare and Senior Health Plans click on Anthem Blue Cross, then click on the Medicare Eligible section. This section will give you additional information on Medicare and Senior Health Plans available from Anthem Blue Cross.